EXTREME ANTI-SLIP GRIP
Made with a high quality porous material for a better grip in the shower or tub, which helps children and adult avoid slips. They offer total protection, stability and grip on wet surfaces. TESTED BY PARENTS in our Nursery.
QUICK AND EASY TO INSTALL
Just clean the surface, remove the backing, place in the tub or shower, and enjoy the necessary security for the little ones.
DISCREET
Thanks to their small size (40 mm diameter) and high quality transparent material, they are very discreet once placed.
HYGIENIC AND DURABLE
Because they adhere fully to the surface of the shower or bathub, they do not allow the appearance of mold or need any special maintenance. This allows them to last a long time
The Anti-Slip Sticker from aeioubaby stand out due to:
✓ Have extreme anti-slip grip.
✓ Are hygienic, they do not need any special maintenance nor do they allow mold to grow.
✓ Are very discrete thanks to its transparent material.
Because the safety of our children is the most important, start using our Anti-Slip Stickers. You no longer have to worry about falls and slips in the shower or bathtub because both you and your little ones will enjoy bathtime free of worry.
SAFETY FIRST!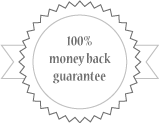 100% MONEY BACK GUARANTEE
Click Here
To Buy Our Products!
Our anti-slip stickers offer a durable long-lasting protection, and are hygienic and discreet.
They offer exceptional grip, which adheres fully to the surface of the shower or bathtub, and are made of a transparent and textured material to avoid any slip, prevent the appearance of mold and do not clash with the style of your bathroom.